Celebrate the 150th Anniversary of the United States Colored Troops!
Southern slaves did not passively wait for freedom. They fought for it. Men fled and joined the United States Colored Troops. Women also worked for the Union, many as spies. But after the war their effort was erased from the history books. "Rather Die Free Than Live A Slave" is their story. The US Colored Troops were created in May of 1863; this year is the 150th anniversary of their founding.
DVD Box: Front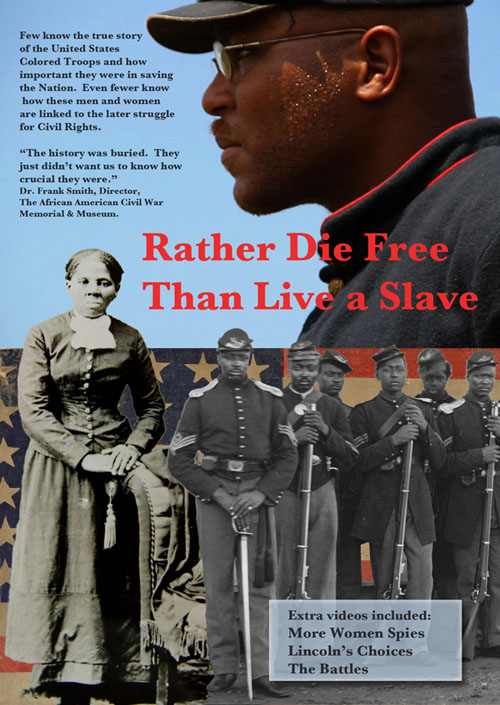 DVD Box: Back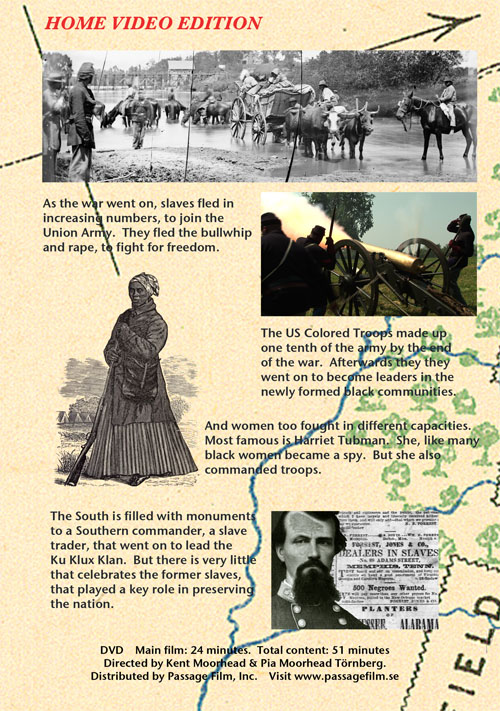 Ordering
We are working filmmakers.
But because we believe so strongly in this film, we are also distributing it ourselves; right now we don't have an option for direct purchase over the website.
If you want the film, contact Kent Moorhead at:
kmoorh@aol.com
Or call 662-816-7253. If there is no answer, leave a message and we'll get back to you.
Prices
HOME VIDEO LICENSE
$20 + $5 handling/shipping = $25
INSTITUTION: K-12/
LIBRARY/COMMUNITY
SINGLE USER LICENSE
$60 + $5 handling/shipping = $65

INSTITUTION: COLLEGE/
UNIVERSITY LICENSE
$125 + $5 handling/shipping = $130

High Definition
The film was made in beautiful 1920 x 1080 high definition. If you want to see it that way, you can order a digital high-definition or blu-ray version. This package includes the DVD as well.
HOME BLU-RAY LICENSE
$35 + $5 handling/shipping = $40
HD: Institutional License
INSTITUTION: K-12/
LIBRARY/COMMUNITY
SINGLE USER LICENSE
$95 handling/shipping included
HD version + DVD
INSTITUTION: COLLEGE/
UNIVERSITY LICENSE
$195 handling/shipping included
HD version + DVD